With each year, SEED raises more funds. Last year SEED donated 97.3% of the funds raised for Meet the Match and Teacher Grants for a total of $300,974!
A record number of donors made this possible last year. Thank you!
This year's goal is to have 500 donors support SEED's Annual Fund Campaign. Your very important donation will support:
Whole-child wellness programs K-12
Grants to support teachers
Greatness need via the General Education Fund
School districts across the country are facing state funding challenges and rely more and more on private funding to maintain their programs. Because of committed donors, SEED has given over $2 million to support Shorewood Schools since 2003! Your support makes a difference for children!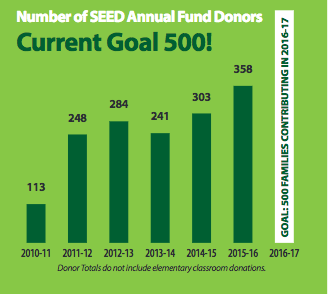 Dine with SEED

is Monday, November 7 from 5 to 9 PM! Dine at these Shorewood restaurants to benefit SEED:

City Market: 2205 E. Capitol (5 to 8 PM)
Cloud Red: 4488 N. Oakland
Culver's of Shorewood: 1325 E. Capitol
Falbo Brothers Pizzeria: 2213 E. Capitol
Harry's Bar & Grill: 3549 N. Oakland
North Star Bistro: 4518 N. Oakland
Oakcrest Tavern: 4022 N. Oakland
Three Lions Pub: 4515 N. Oakland