If you haven't purchased your tickets for Swing With Shorewood, SEED's main fundraising event, you'll want to do that now as space is limited. This year's gala is going to be an unforgettable night!
Step One: Get your tickets before they sell out here.
Step Two: Book an appointment at The Brass Rooster & Hen House Hats
This year's gala has a Kentucky Derby theme, and no one knows more about dressing for a derby than John and Kate McLaughlin, the owners of the hat shop. These Shorewood natives, residents, and parents are partnering with SEED this year to help you look your best at the gala and give back 10% of your purchase to SEED.
Kate and John McLaughlin of The Brass Rooster and Hen House Hats (soon to be McLaughlin & Hayes Hat Co.) planned and created the state's premier hat shop eleven years ago in the Bay View neighborhood. "We evolved the business from a retail hat business offering cleaning, blocking, and refurbishment to eventually offering the only bespoke hats made in Wisconsin on antique hatting and millinery equipment," explained the McLaughlins. They create styles for their diverse customer base from everyday hats to special occasion hats.
When they opened their hat store, the McLaughlins planned on hat purchasing becoming an experience for their customers. Kate spent a decade as milliner in the costume department at the Milwaukee Repertory Theater, allowing her to create anything an actor could put on their head. John was always a hat wearer and customized and maintained his own hats. John's love of hats goes all the way back to his days at Lake Bluff Elementary where he is pictured wearing his grandfather's fedora.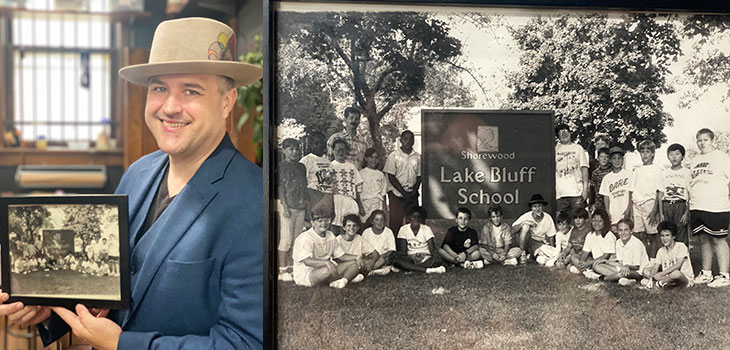 Together they've created a business that has a following of local, international, and famous customers who love their eye for catchy, traditionally made hats. "Our hats can be seen on stage, film, and screen. On the upcoming 6th season of "Peeky Blinders" on Netflix, you will see some of our work," beamed Kate.
For galas past, the McLaughlins have donated some of their gorgeous work to SEED auctions. "We enjoy contributing to the Shorewood community because we are a part of this community," Kate expressed. They moved back to Shorewood when it was time for their children to attend school. John grew up in Shorewood, going to Lake Bluff Elementary, and his parents have lived here for over 35 years. Their son James currently attends Lake Bluff as well, and is looking forward to attending SIS next year.
You may visit the hat shop by appointment only, as John and Kate want to give you the time and attention you need, while also ensuring there is ample space. They are currently booking appointments anytime after April 9th and can accommodate up to 5 guests at a time, so feel free to go as a small group and make a trip of it! Appointments are available from Wednesday – Saturday 11 am – 5 pm. Women's party and fascinator hats range from $45 – $250 with plenty of selection, all unique, so you can be sure you won't be showing up in the same hat as someone else. Men's hats and caps range from $80 – $225.
The Brass Rooster and Hen House Hats
2250 S Kinnickinnic Ave, Milwaukee, WI 53207
Make an appointment: (414) 988-5222 or email brassrooster1@gmail.com
Feel free to bring your gala outfit along to your hat appointment if you have it, and the McLaughlins will help you to find the perfect hat to go with it.

Kate's motto is "stand out, look sharp," and that's exactly what she will help you do. This year when you shop at The Brass Rooster and Hen House Hats for your gala hat, you'll not just be purchasing a one of a kind hat, you'll also be supporting a small, family owned business AND giving back to Shorewood Schools in the process. It's a win-win-win! Even if you can't attend the gala this year, we encourage you to visit and patronize the McLaughlin's hat shop.
See the many ways you can partner with SEED, and purchase your tickets to this year's Swing event, by visiting our Swing with Shorewood webpage.