The 7th graders enter class excited to create music, if not always sure what type they'll make: Will they play guitar? Conga drums? Electric keyboard? The mix of music, and who plays each instrument, stays somewhat fluid. "They're learning rhythm, they're learning notes, and they're learning musical terms on all these things," says Justin Olson. The SIS band teacher leads the 24 students in a new class called Cadet Band.
The need for the class became clear in summer 2021. The middle school faced a challenge: after spending a year in virtual classrooms, many incoming 7th graders had greater needs in the music arena than could be met by any of the three traditional choices- Band, Choir, and Orchestra. More students were entering middle school who hadn't benefited from the music classes in Shorewood's elementary schools. And the pandemic shutdowns hit music students hard, some more than others.
Justin and his colleagues created this fourth option on the fly, designed to help students thrive, learn, and connect to music in a way that was culturally relevant. In short, he wanted to create a win for the students and the staff. "It was just a lot of fun building the curriculum and staying one step ahead of the students," he says.
The course had significant financial needs, which Justin was able to meet with an emergency grant of $4,000 from SEED. With time of the essence, he purchased guitars, drums, electric keyboards, and curriculum materials. When classes started in the fall, the students filled the room and the hallways and beyond with the sounds of drumming, Latin beats, Middle Eastern rhythms, Egyptian styles, and so much more.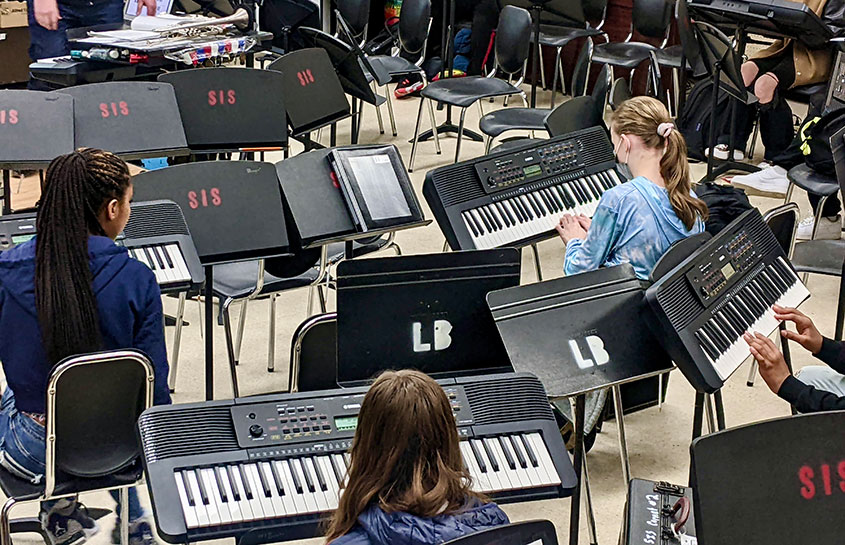 Before long, other students picked up the guitars and joined in. The keyboards got added to the soundscape. Trumpets joined. A class of students who lacked experience was making music, and they kept making it as spring arrived. The beats have grown more complex, the students more adept. "It really is a wonderful thing to see all these students and what their favorite aspect is," says Justin. "Some have multiple favorites. That's a lot of options: drumming, piano, guitar. And it's all from the [SEED] grant and didn't exist before."
As a parent, you might be thinking this class sounds like a fun option for your student, and you're wondering how to sign up. Justin explains that due to staffing and class size restrictions, Cadet Band isn't offered to every student registering at SIS at this time. The class is reserved for transfer students and those who haven't yet learned the fundamentals of music in elementary school. "The goal is to get these students interested in music so they will move into band, choir, or orchestra the next year. The Shorewood tradition is for every student to experience a performance music class, it's one of the things that makes Shorewood schools unique." 
Cadet Band is just one example of why the Shorewood SEED Foundation is so important, and the reason why so many of us give. As creative and committed as our Shorewood teachers are, the district doesn't always have resources to create urgently needed curriculum. Because of our proud SEED donors, current and future SIS students have access to necessary funding to help support music education. Please continue this legacy by partnering with SEED and supporting our mission. There are many ways to contribute: bid on amazing items in our online auction 4/28 – 5/09, purchase tickets to the Swing with Shorewood gala on 5/07 at Discovery World, or make a monetary donation to SEED today!
Tax ID Number: 04-3750042