For Tammy Maddente, sponsoring Swing with Shorewood, SEED's largest fundraising event each year, isn't just a wise business maneuver, it's personal. Tammy is the Senior Vice President of First Weber Group and lived in Shorewood for over 20 years. She and her husband Norbert Gilmore put five children through Shorewood Schools and were very involved in the community, both professionally and personally during that time. We had a chance to talk with Tammy about why she continues to support the mission of SEED, even though her office and home are no longer in Shorewood. 
It was the early 1980s, and Tammy and Norbert were looking for a safe and accepting community to raise their biracial family that included 7 children. "It was known that Shorewood was a great place to raise a family in a diverse world," she stated. Tammy also wanted her children to have an outstanding education and to be in an area that valued public education, because as a realtor, she understands the importance a school system plays in the larger community. "The value of the community is in direct correlation to the school system, and having been in real estate for 35 years, I know that well." 
Tammy's youngest child has long since graduated, but she still feels a strong connection and appreciation for Shorewood, its school system, and all the people here that make this a diverse, progressive, admirable nook of Milwaukee. "I look at how blessed my husband and I are, that all of our children are contributing members of society, and I believe it was their foundation going through the school system," Tammy said of her children, 5 of whom were educated in Shorewood Schools. Tammy was a working mom, moving her way up through the real estate industry when her kids went through school. She couldn't be at the PTO meetings or chaperone all the field trips but she credits the teachers, administrators, and counselors for being there to mold and guide her children through those formative years. She is grateful to a community of educators that saw each of her children as unique and didn't attempt to put them in a box. 
It was and still is important to Tammy that people be appreciated and accepted for their individuality. Raising children that are biracial, she has a unique lens on equity and how important inclusion is to every establishment. "I've always been a proponent of equity in housing because of my family. I'm that mother that had to talk to my sons about what happens when they get stopped [by police]…I'm that mother that had to teach my daughters that they have to be ten times better, especially being a woman." The events of this year have proven just how important it is to address these issues, not just in our school systems, but everywhere. Tammy has been passionate throughout her career about diversity in real estate and trying to combat the inequities proliferated by banks, politicians, and the real estate market itself. She heads up Fair Housing for Greater Milwaukee Realtors, is President of the First Weber Foundation, and has worked hard to make a difference on the Metro MLS Board of Directors. The past year has been particularly earth shattering, especially in Tammy's family, where she heard from her own children just how difficult it has been growing up Black in America. These experiences were being processed and shared in the wake of George Floyd's death and protests being held around our country. That outcry put pressure on major corporations to make statements about BLM.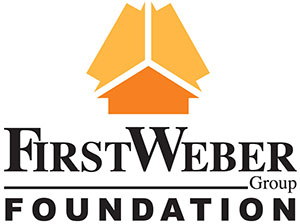 Although Tammy was tasked with putting out a statement for First Weber, she went many steps further, spawned by her love for her children and passion for equality. This past year she revamped a committee she had headed titled "Diversity and Inclusion" and renamed it "Equity and Engagement." The IDEA MOVERS (Inclusion, Equitability Allies Making Our Voices Empower REALTORS) was a group she created for First Weber within that committee, that focuses on education, mentorship, and fair housing (minority home coalition). The education component is a tool to help teach students financial literacy and the importance of home ownership. The curriculum was developed by two former Shorewood graduates and will be taught at various community clubs and libraries to teens and young adults. The mentorship part of this committee helps people to get a start in a real estate career with a focus on recruiting and retaining a diverse group of professionals. The minority home coalition works to connect prospective home buyers to housing resources and teach them how to get in a home and stay in it. "It's the saddest state of events that we have less Black families owning homes now than we did when the housing act passed in 1968," bemoaned Tammy.
Of all these company initiatives aimed at changing the divides within our state, Tammy confidently stated, "We're dead serious about what we're doing and we're passionate about it." She cares deeply about equality in all facets of life, including education. Tammy feels compelled to use her platform for good, as much as possible. Being the presenting sponsor of SEED's Swing with Shorewood event is one of the ways in which she is using her resources to make change in the community. "I couldn't be happier with the education my children received in Shorewood, and that's why I continue to sponsor it," Tammy explained. Our school system has had unprecedented challenges this year, but the generosity of people like Tammy has helped in funding critical needs for our students and district. 
As with most things this year, the Swing event will look different for the safety of our community. Different does not always mean worse, as Tammy well knows. She's been involved with SEED since its formation, even chairing what would become the Swing event back when it was held at the Wisconsin Club. SEED and its main fundraising event have always been flexible to the needs of the community, starting out as more of a pub style event at Lakefront Brewery and evolving to a more upscale dinner/auction at Discovery World. We thank Tammy and First Weber for being such an avid supporter of the mission of SEED and making Swing a success, year after year. We are honored that she would partner with SEED and thankful for her example as someone who understands the impact one person can have on the world around them. 
We are especially grateful for each business that sponsors Swing with Shorewood, as we know it has been a difficult year both financially and emotionally for businesses and households. This year's event will take place on April 10, 2021, and will be a virtual showcase featuring some of Shorewood's most talented students. The accompanying online auction will run April 2-11, 2021, with coveted experiences, items, baskets, and gift cards. You are invited to join us as we toast the accomplishments of our students and staff while supporting the great work being done in our district. Please consider donating a basket, item or service, wine for the wine pull, or becoming a sponsor of this year's virtual Swing Meets Showcase event. If you can't make the event, please consider donating to SEED's annual campaign to support Shorewood schools with a direct gift. We hope to virtually see you there!
Tax ID Number: 04-3750042