Maybe you've been involved in a conversation around education in Shorewood and happened to hear the phrase "Design Thinking" dropped. Perhaps like most people, you scratched your head wondering what it meant and were befuddled by how it connects to what we as stakeholders see in Shorewood classrooms. It's quite possible you've never heard about it at all, but be assured it's a fantastic concept and its implementation in Shorewood Public Schools is being experienced every day by our students.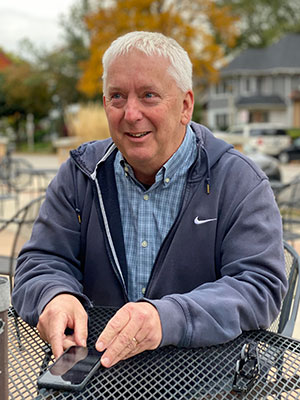 We sat down with Mike Halloran to discuss what Design Thinking is and the impact it has had in our district. Mike is a well respected and beloved English teacher at Shorewood High School who has been in the district nearly two decades. He was among the first group of teachers to participate in the Design Thinking workshops hosted by the University of Wisconsin Milwaukee, and had a lot to say about the ripple effect this training has had within our schools.
Design Thinking is an educational concept presented through a fellowship with UWM. The desire to have this fellowship came after Superintendent Bryan Davis hosted the first Shorewood Schools Summit in 2015, which resulted in community recommendations to implement in the district over the following 10 years. One of the recommendations was to have more Authentic Learning take place within our schools and throughout our curriculum. In order for teachers and administration to create opportunities and content that fostered this need, they needed to have a design process that would enable them to develop their ideas into concrete classes and curriculum. Not sure what Authentic Learning is? Read our recent What is "Authentic Learning" Anyway?? SEED Story to learn more.
UWM's Ilya Avdeev described Design Thinking as "a way to make a good idea permanent" when he came to present this idea to Shorewood teachers early on. This process that originated at Stanford University starts with observation and ends with having a prototype. SEED funded the partnership between the Shorewood School District and UWM so teachers could receive training and development in this type of thinking and course engineering. The first session in 2015 had 8-10 pairs of teachers and resulted in two new classes that were introduced at the high school level. Those classes were Environmental Literature, and Image and Word. Fast forward just 3 years later, and over 15 elective courses developed through this concept were being offered at Shorewood High School.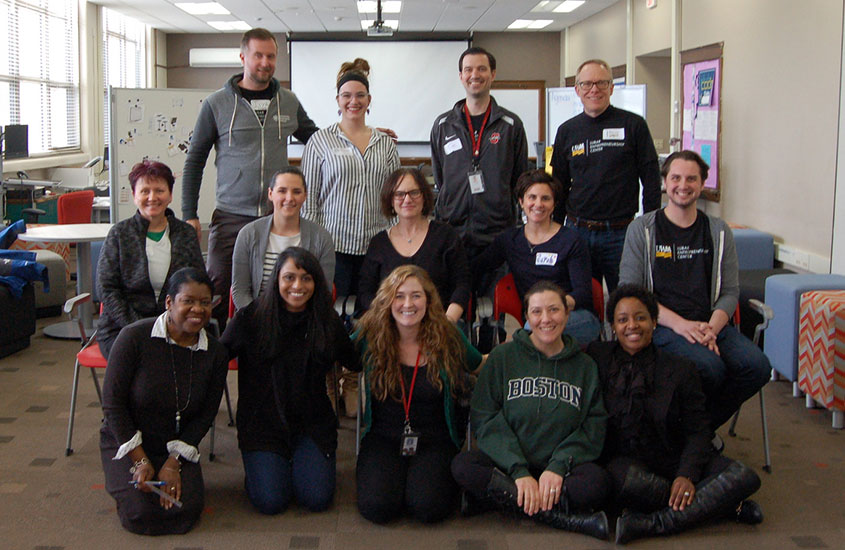 One class impacted as a result of this process is Visual Journalism, which had been an elective class prior to Design Thinking but was rewritten with the concepts of DT in mind. This class had been taught by Amelia Hernandez at SHS, and she and Mike Halloran rewrote it together after going through the fellowship and continue to teach it together. This was Mike's first class he helped design after finishing the fellowship at UWM.
This new process was difficult early in the planning stages, but has become second nature. Mike explained the value this class has for our students, stating "Visual Journalism gives some students a peek at a future career in journalism, design, or a related field. Others have an opportunity to express creativity in new and outward facing ways. Still others just enjoy a project based learning environment that puts them in charge of their own work." This course was a bright spot in the dark clouds of the pandemic. Though schools remained physically closed, this class was able to continue outside and in the homes of students. Due to the generosity of SEED donors, students had access to equipment needed to complete their assignments for the class and feel a sense of normalcy and purpose.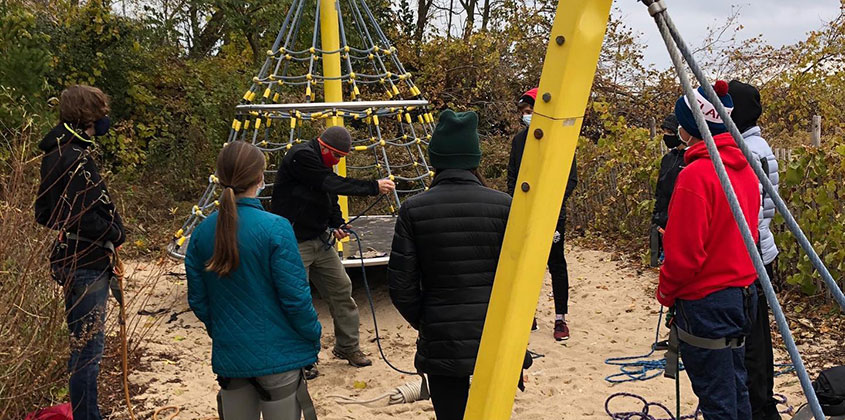 Visual Journalism is just one example of the amazing offerings that stemmed from this novel way of thinking. Funding that allows for a district to equip their staff with progressive training has a ripple effect that flows into our classrooms and enriches our students. Between the years of 2017-2020, SEED donors have given $62k towards the Design Thinking Fellowship, with an additional $32k coming from The Excellence in Teaching Fund that SEED manages. That's a grand total of $94k over 3 years that has reshaped multiple elective classes that roughly 1 in 5 high schoolers will take at any given point in their tenure at SHS.
A main goal in education is to produce well balanced, successful young thinkers who are ready and equipped to be productive citizens within the greater community. These unique classes at Shorewood High School stemming from Design Thinking were engineered with this goal in mind. As Mike explained "you want to find ways for students to utilize their strengths, interests, and skill sets to engage with the community around them." The distinct lessons offered within the Authentic Learning umbrella have and will continue to give students real life experience that transcends the four walls of their classroom and helps to prepare them for the next phases of life. As more teachers are given the opportunity to participate in this program each summer, these innovative class offerings will only increase.
We at SEED would like to thank our donors who have made this achievement and many others possible. As Shorewood Public Schools continue to implement the best strategies to educate the next generation at the highest standard, we ask that you continue to support this important programming by making a donation today.
Tax ID Number: 04-3750042